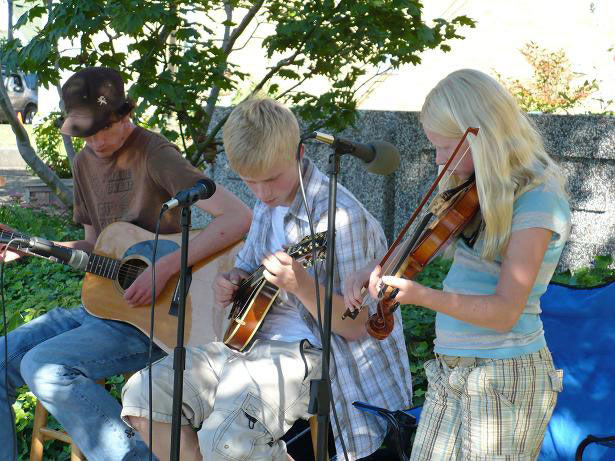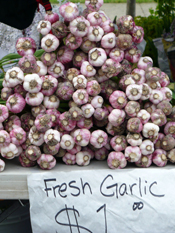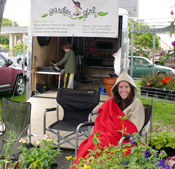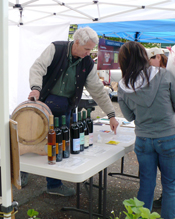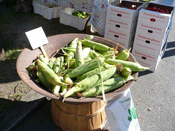 Snohomish County Farmers Markets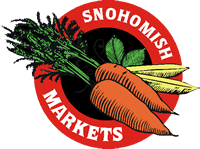 2013 Season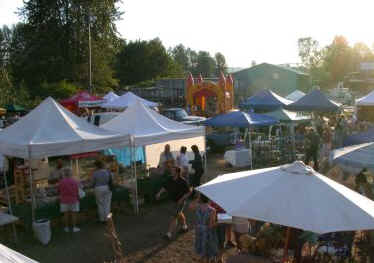 Puget Sound Harvest Schedules
Fruits, Nuts and Berries Herbs Vegetables Meats and Eggs

Fresh Local Produce, Certified Organics, Nursery Stock, Vegetables, Cut Flowers, Honey, Baked Goods, Farm Produce, Artisans, Craftspeople, Old Fashioned Fun! Come for the Freshness, Stay For the Fun!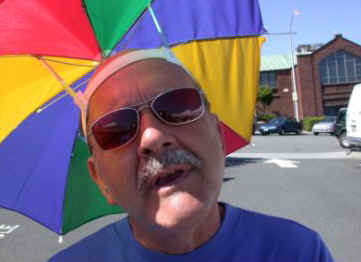 *** New Market ***
Snohomish Sunday Farmers Market

Sundays, 11am until 4pm June 2nd - September 29th.

This new market concentrates on selling produce from all the farmers and food vendors we love. Fresh fruit, vegetables, flowers, cookies, pies, and Kelso hotdogs to enhance your day.
Why not drop by while you are walking the Centennial Trail.

Located at Lincoln Avenue and 3rd Street, next to the Centennial Trail, Snohomish Boys & Girls Club, and the Snohomish Skate Park.
More Information

Please contact Neil Landaas (206) 412-4630
or email rockfish5@seanet.com


View Larger Map





Snohomish Thursday Farmers Market

A short walk from Historic Downtown Snohomish
Thursday Evenings, 3pm until Sunset May 9th - October 3rd.

This lively evening market opens its 22nd season. The Snohomish Market is known for its wonderful selection of bedding plants, flowers, herbs and other nursery stock. A WSU Master Gardener is on hand to answer your questions from June through August. We also feature fresh fruits and vegetables, organics, honey, baked goods and handmade crafts. Located at 1st and Cedar in Historic Downtown Snohomish.
More Information

Snohomish Farmers Market
Snohomish Farmers Market Blogspot

Please contact Karen Erickson at (425) 366-1171
or email snohomishfarmersmarket@gmail.com


View Larger Map




Edmonds Museum Summer Market

Located in Downtown Edmonds
Garden Market
Saturdays, 9am till 2pm May 6th through June 24th

Full Summer Market
Saturdays 9am till 3pm July 1st through October 7th.

This overwhelmingly popular farmers market is opening its 19th season. Stroll beautiful Downtown Edmonds and visit with over 120 vendors. The Market features local farmers selling a wide variety of Washington produce and farm products as well as some of the finest artisans and craftspeople our region has to offer.

Please contact Margaret at 425-776-7201 or
Jerry at 206-818-1488
http://www.historicedmonds.org/Summer_Market.html


View Larger Map





Mukilteo Farmers Market

Old Town Mukilteo near the Ferry at Lighthouse Park
Wednesdays, 3pm till 7pm June 5th through September 25th
This farmers market is opening at a new location for its 8th season. Overlooking the Mukilteo ferry terminal with beautiful views of the Puget Sound and the Olympics. The Market features local farmers as well as some of the finest craftspeople our region has to offer.

Please contact (425) 320-3586
or email mfmorg@mukilteofarmersmarket.org
http://www.mukilteofarmersmarket.org


View Larger Map





Everett Farmers Market
*** 20 years Serving the Local Community ***

On the Marine View Drive
Sundays, 11am - 4pm June 2nd - October 6th

Now in its 20th season, this Market on the scenic Everett Marina, located on the beautiful Puget Sound in Washington State, showcases the very best in handmade homegrown goods. We feature farm fresh fruits vegetables, organic produce, flowers, plants, herbs, honey, baked goods and handmade crafts. Visit the Market for your picnic treats to take on the FREE ferry to Jetty Island, Stroll the Promenade, watch the boats or tie up your own from the public access dock or dine al fresco at several restaurants. We are located at Port Gardner Landing on West Marine View Drive.

Please contact Gary or Karen at (425) 422-5656
or email everettfarmersmarket@gmail.com
http://www.everettfarmersmarket.com/


View Larger Map




Market Links

Snohomish Visitor Center
Snohomish Bakery & Cafe
Snohomish Bicycles
Flying Tomato Farm
Puget Sound Fresh
Puget Sound Fresh Farmers Markets
Cascade Harvest Coalition
National Honey Board
Circle Green Healing Arts
Celtic Copper
Gypsy Rows
Snohomish County Growers Alliance
Snohomish County Farmers Markets & Farms
Snohomish County Farms
Washington State Farmers Market Association

Copyright © 2013 Snohomish Markets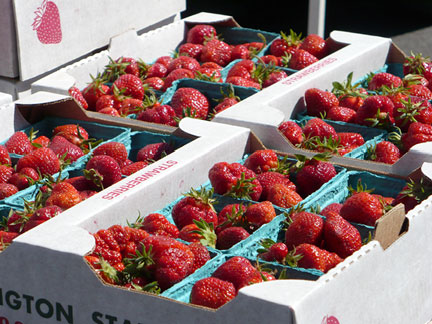 When you see the
Sound Fresh logo, you know the produce you are about to enjoy was grown in one of the 12 counties surrounding
Puget Sound.